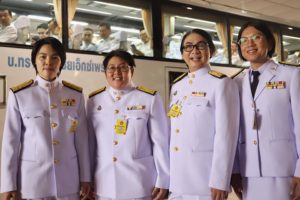 A proposal legalizing same-sex civil unions has re-entered into Thailand's national conversation in recent weeks.
If passed, the Life Partnership Bill would make Thailand the first Southeast Asian nation to legally recognize same-sex partnerships.
The bill jumped back into the spotlight in recent times after passage stalled late last year under the then-ruling military junta who generally favored the legislation.
In Thailand's March elections, the leaders of Thailand's former military government secured power once again and now have re-tabled the bill for legislative action.
Justice Minister Somsak Thepsutin stated to the media that public sentiment will be the determining factor of the bill's fate.
According to a recent online survey conducted by YouGov, 63% of Thai's support same-sex civil unions while only 11% said they oppose the idea.
And that's not the only sign of positive public sentiment towards LGBTQ rights in the country.
Also in March's elections, Thais voted in four of the first-ever openly LGBTQ members of parliament (pictured above), all from the upstart Future Forward party.
Although the bill's prospects are looking up, the four LGBTQ MPs and LGBTQ activists argue that the bill doesn't go far enough and won't settle for anything less than full marriage rights for gay and transgendered individuals.
According to Thailand family law attorneys, legalizing marriage for gay and transgender individuals would require altering the Thai Civil Code, which the Life Partnership Bill doesn't do.
Read the full story here.